Flexo Analysis Instruments - BetaFlex Pro & NEW BetaFlex Pro2 Flexo Plate & Halftone Image Analyzers & More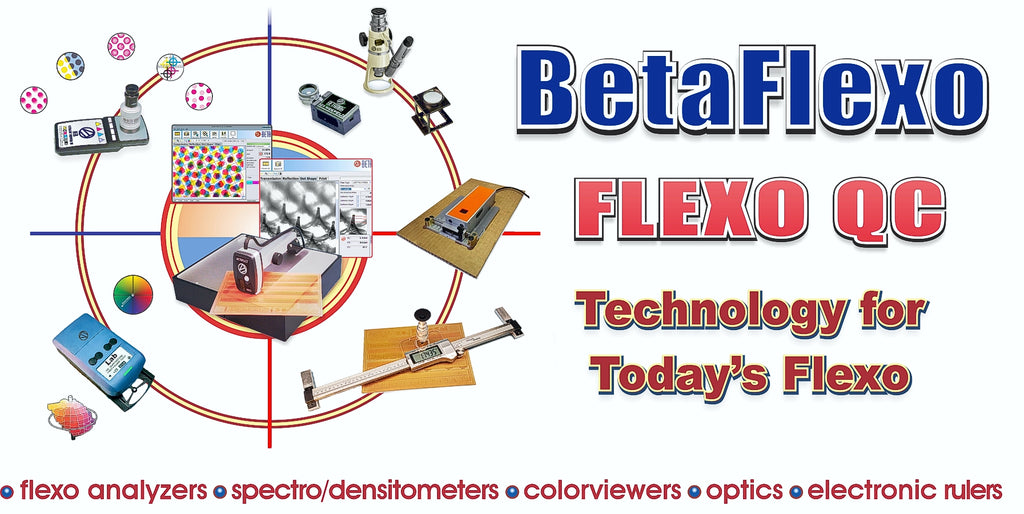 Measure 0.5% Flexo Highlights at 300 lpi & Better, also revolutionary 3D Dot Structure Imaging and Analysis for HD Flexo, Color Separation Analysis, and much more.
The BetaFlex Pro is the industry standard for flexo analysis

 and is both advanced and economical. 
BetaFlex Pro Version 6.0 Software Upgrade Software Adds Unique New Features 
Upgrade your existing Betaflex Pro to measure the latest surface screening technologies
View 3D images with increased high resolution
Improvements for measuring white ink mottle on transparent film
Improvements for measuring metal backed plates 
Version 6 brings numerous new features, improvements, and usability enhancements to the world's most popular flexo analyzer. 
NEW! Workflow Automation - Your high volume, multi-plant production will save time, money and materials by automating your workflow with BetaFlex Pro's money saving upgrade to your BetaFlex Pro. 
Workflow Automation (part of the FlexoEyePlus Software suite) streamlines and systemizes plate production: 
Identification
Analysis 
System setup 
Reporting of all plate production parameters
Betaflex HR - Extra High Resolution Flexo Analyzer for Micro-Structure Analysis provides an easy and accurate method to analyze flexo plate solid- and dot-surface Micro-structures at 43,000 ppi.  
Micro-Structure patterns greatly improve ink transfer and dot fidelity, these patterns and textures are sensitive to variations in mask exposure and plate processing.
They benefit from the same process control techniques provided by the BetaFlex Pro but require much higher magnification and resolution as provided by the BetaFlex HR.
Beta Precision Digital Electronic Rulers, provide precise, non-contact measurements of large and small distances on Films, Plates, Dies, Prints, Circuit Boards. A 50x microscope attached to a digital display traverses the area to be measured on a rugged steel beam.  The operator can select inch or metric measurements with a resolution of 0.0005" or 0.01mm, respectively.

Line widths, bar code elements, image register error, and any feature that fits within the field of view of the microscope can be measured directly on the microscope eyepiece scale.  Inch or metric reticles can be specified when the unit is ordered.
Large-format, high contrast LCD display shows the distance moved across the sample.

The display and measuring system are powered by the self-contained battery, eliminating cables and chargers.

Incremental measurements can be made by setting the zero anywhere along the sample.

Rubber feet rest solidly on the work surface and support the microscope micrometer assembly and slide above the sample

The Ruler's stainless steel construction makes it appropriate for laboratory or production environments.

When very large samples need to be measured, the non-skid mounting feet can be placed directly on the film, plate, or other substrates without damage.
See the BetaFold Crease & Fold Analyzers and BetaCorr Corrugated Analyzer both new and unique instruments for quality control measurement of crease, bead, channel width, depth, angles, and symmetry.
All BetaFlex Analyzers include a FREE BetaColor Viewer 3 (Value $515). The BetaColor Viewer 3 is the industry standard for critical CMYK color evaluation and is recognized by all segments of the industry with more than 20,000 units sold. View colors enhanced with LED's in high contrast. Yellow and other colors appear virtually black.